NEON Calls you Partners
NEON is developed to connect our partners with their customers.
With NEON, your business will continue to grow as we advance for your customers.
NEON assists the partners in taking the next step toward success.

Sign-Up Today
Isn't it too hard to do online marketing?
NEON understands that it's tough to find your marketing target you want to reach through Social Media or other online media.

You can easily find your marketing targets and reach them directly by sending them promotional messages.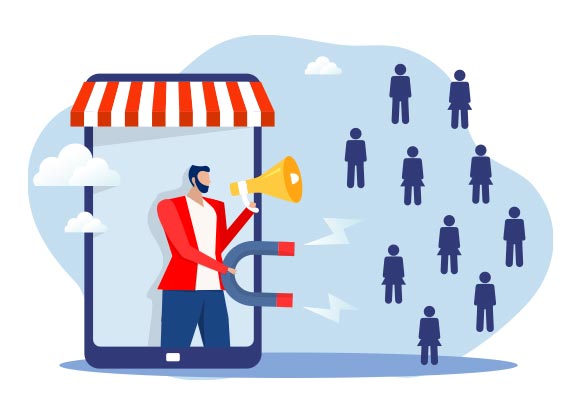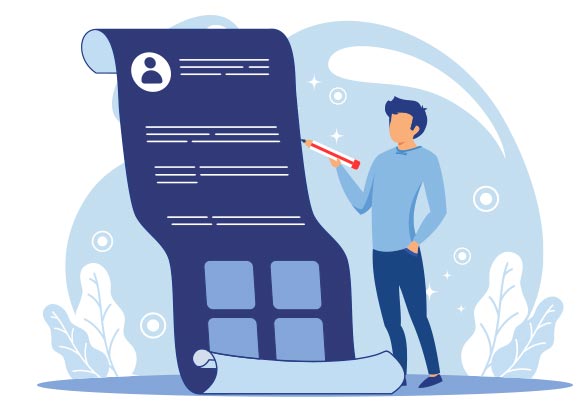 No need for money
to register your store!
If you're curious about who will be interested in your store, just use NEON.
You can upload your store information + photos yourself, and inform gourmets of your store without any cost.
Opening and managing a store website is cumbersome and expensive, right? Use NEON's store information page as your store website for any purpose!
---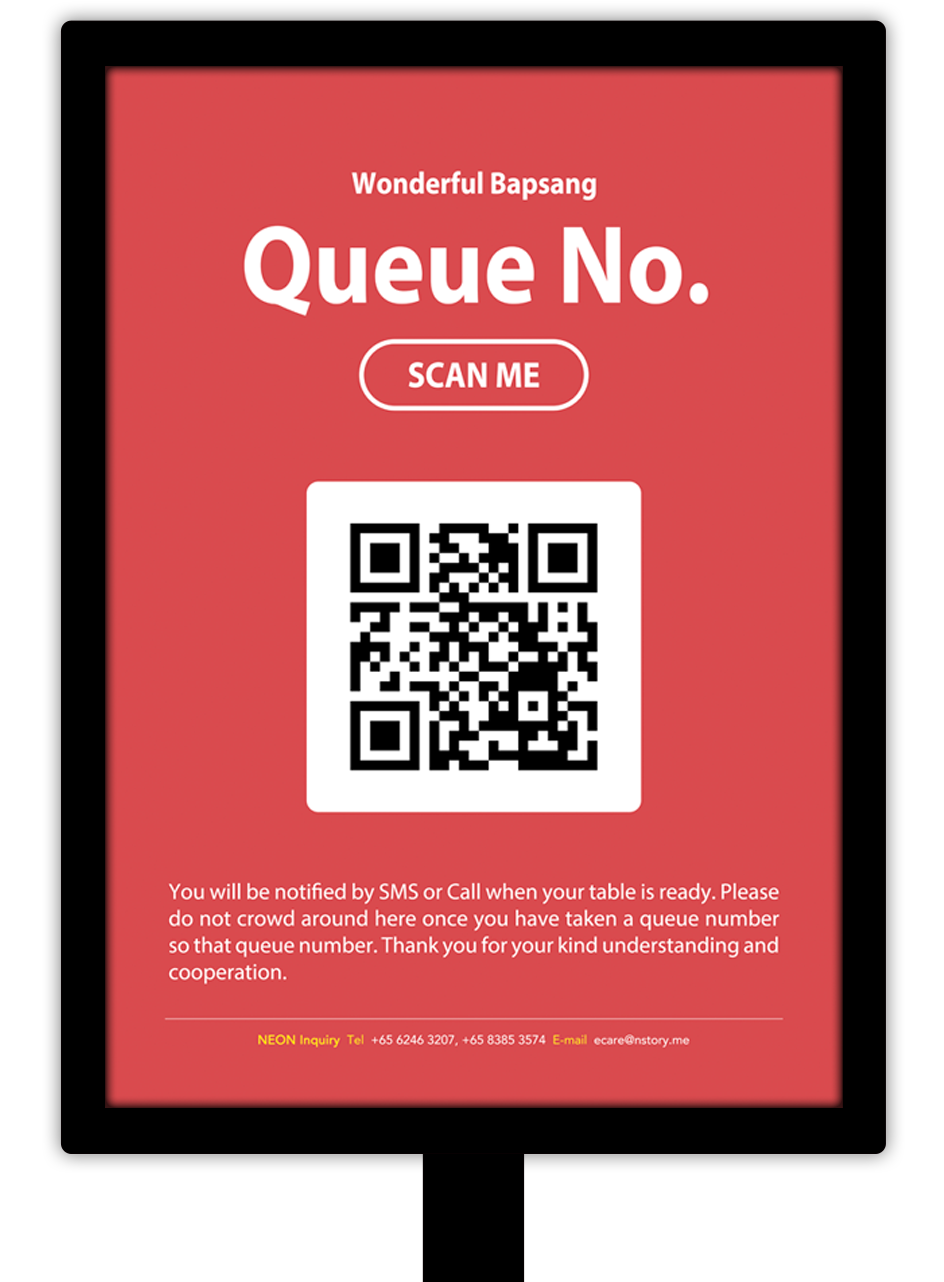 QR Queue
Manage queuing
with one QR Code
Customers can simply queue by scanning a QR code. Don't take customers away from tedious queues anymore! Increase customer satisfaction to the highest level with NEON QR Queue!
Mobile Queue
Easy access
through Mobile Web!
Simple registration for customers (< 1min).Registration only requires mobile number.Customers will get a text message once successfully registered.
Call smartly.
You don't have to go out to call customers.Call the customer by text message or push (neon app).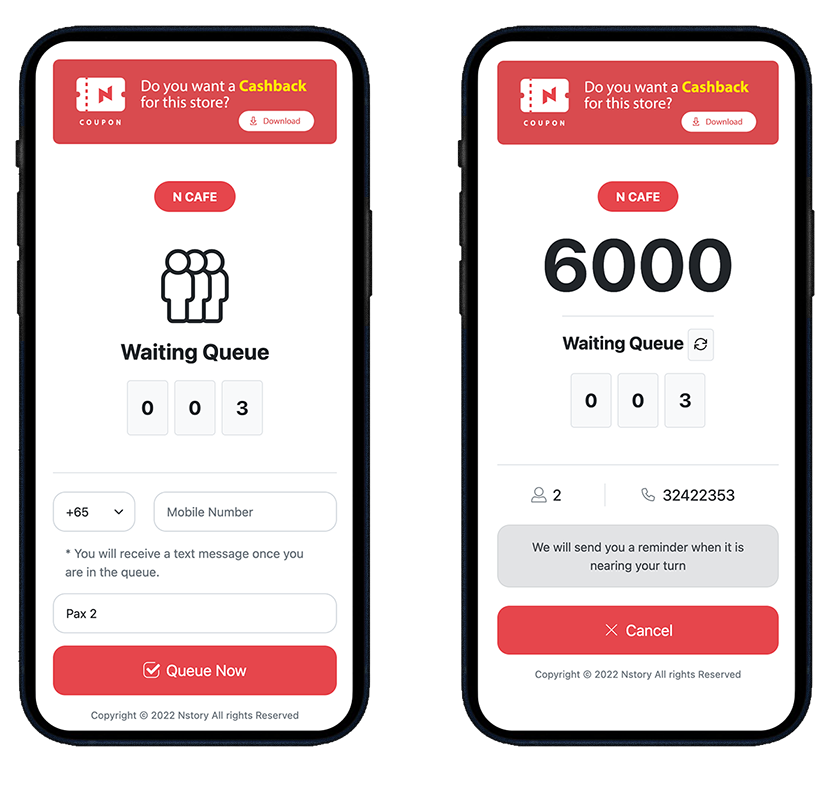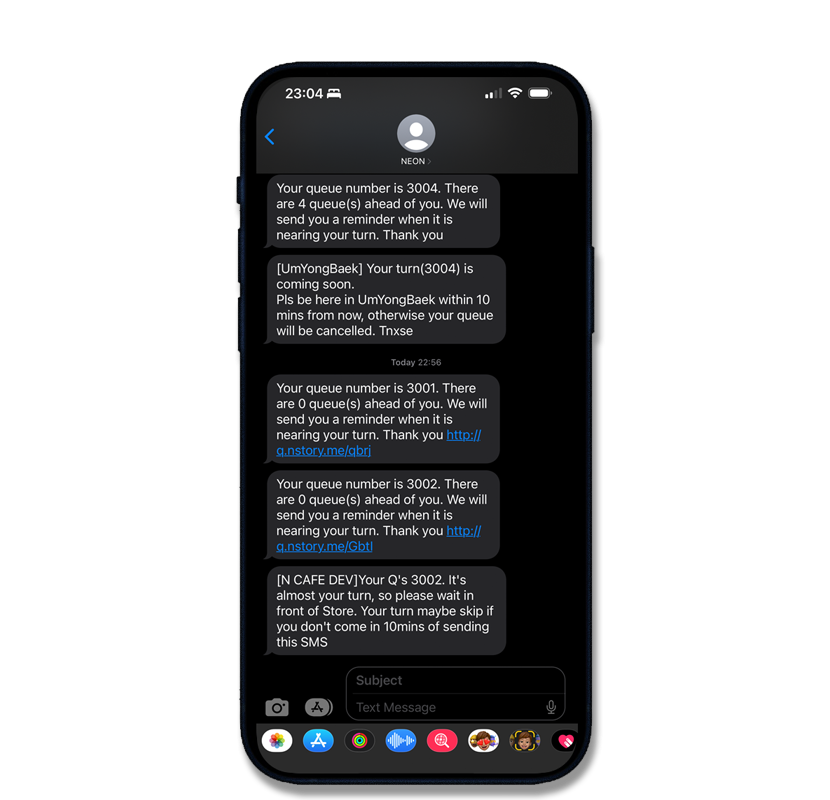 Marketing Message
NEON Customer
Relationship Management
Send marketing messages to customers who visited your store.
Effective and low-cost marketing is possible on NEON. NEON helps you to target specific customers who have a history of actual visits.
Improve customer satisfaction by informing your important business announcement ahead of time. When a promotion is running, you can find appropriate targets and send detailed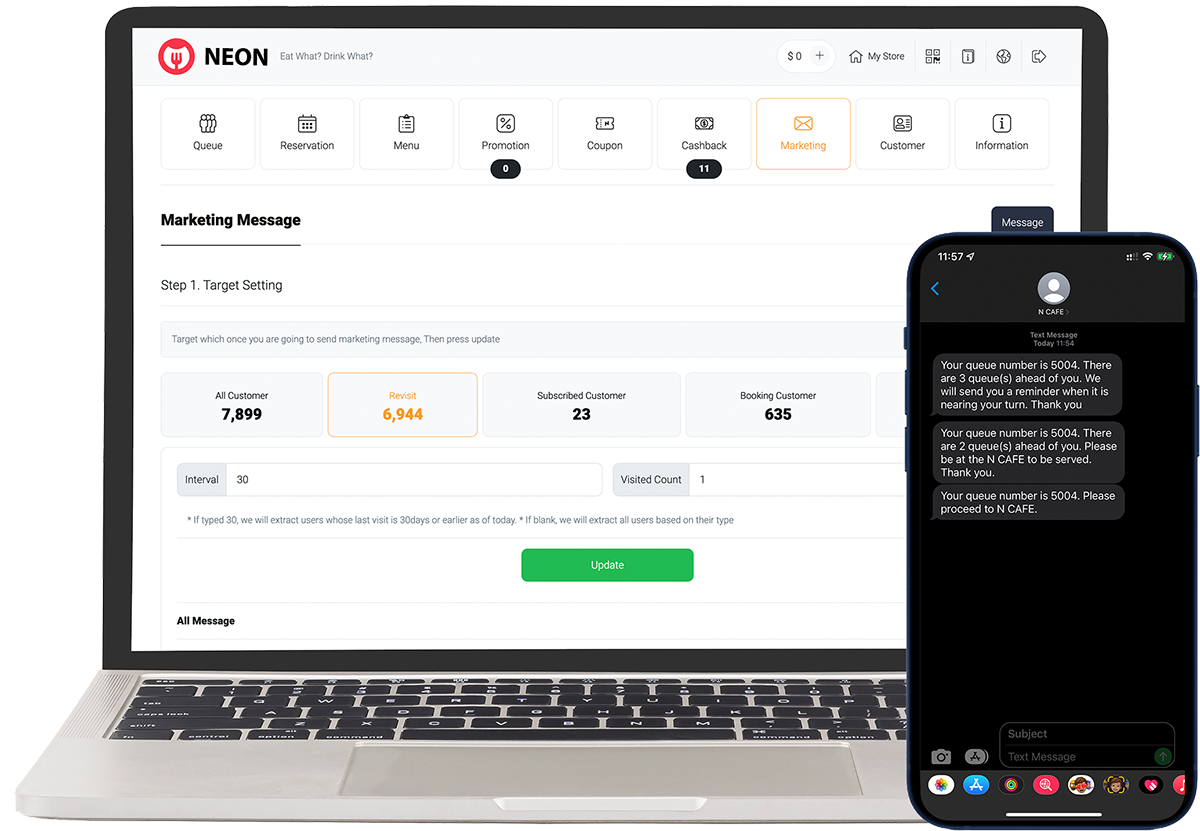 Promotion
Coupons, Discounts, Deals, Special Offers, etc.
Run several types of promotions with NEON that can increase the number of customers or sales! Stimulate ongoing promotions to potential customers directly on NEON!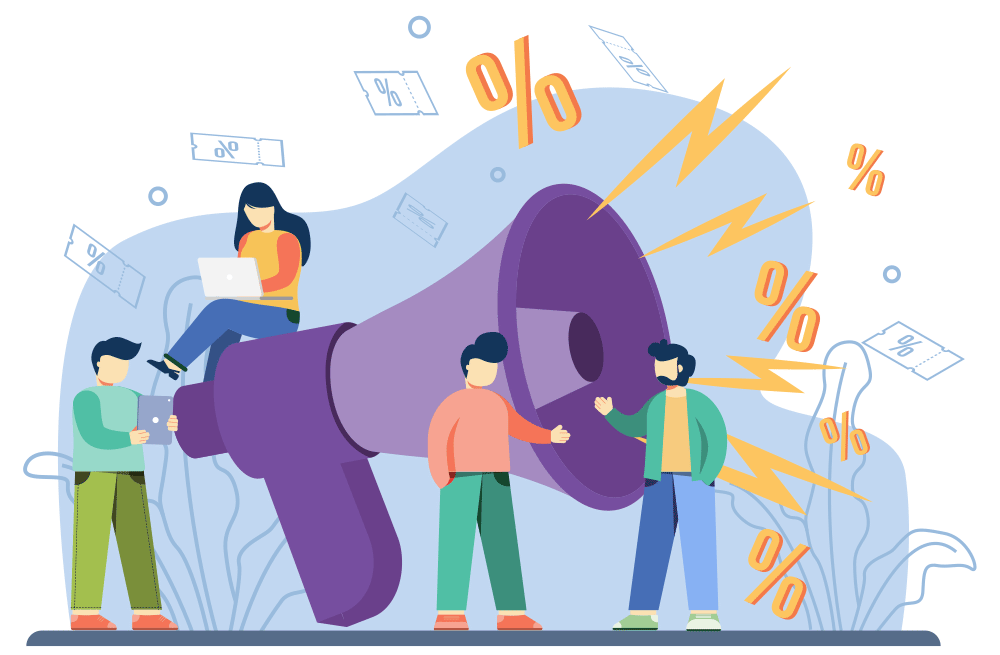 CRM
Customer Relationship Management
Keep track of how many customers have visited your store so far.

Identify the customers who have frequently visited your store, and send individual marketing messages to a specific target.

Build a trusty relationship with your customers by communicating with them on a regular basis. As a result, it makes customers into regular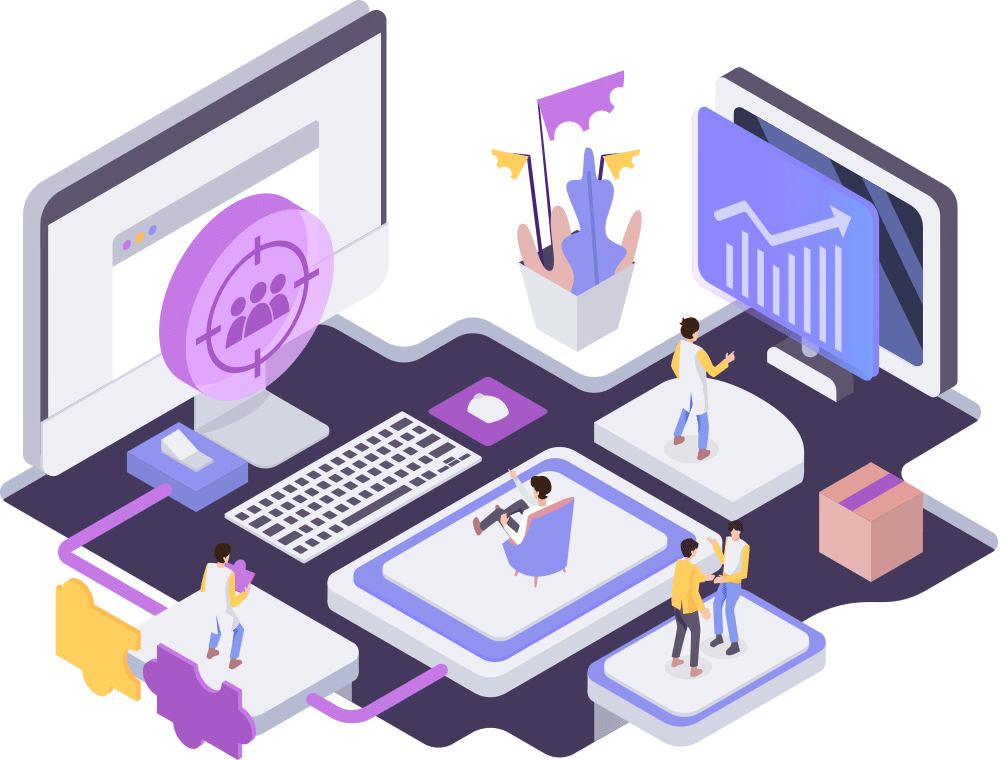 Survey
Would you like to hear the voice of customers?
You can find out through a survey. With Neon Survey, you can choose the questions and survey formats. Reflect on the feedback and provide even better service.

Equivalent services to $50
60 Cases Booking
When 2 pax per case
500 Messages
Number of Visitors
Do you still manage your reservations by hand? Do you still line up customers in front of your restaurant? Manage bookings more efficiently and smartly with NEON and eliminate physical lines that reduce customer satisfaction.
Does This Price Make Sense?
YEAH! It makes sense with
NEON!
---
Company
Marketing Message
Online Reservation
Online Queue
A

Monthly subscription

$200

per each reservation

$1.20

B

per each reservation

$3.50

C
¢10

Monthly subscription

$600

** 2-3 SMS can be sent per one Queue case

per each reservation

(+ ¢10 per additional SMS)

¢60

per each Queue

(+ ¢10 per additional SMS)
** 2-3 SMS can be sent per one Queue case

¢20

Limited Offer!

Will charge for the installation fee soon, no installation fee JUST NOW
---
BE OUR PARTNERS